Handpicked fresh premium bluberries from the beautiful hills of western Serbia, processed and packed with outmost
care and love.
About  us
Our company's business dates back to 2014 and since then we have had a clear business vision – the product of unrivaled quality!
Every year, the business goals we set for ourselves are getting higher and higher. We find inspiration every day in the satisfaction of our business partners, and a sincere desire to give our maximum moves us forward.
We are continuously investing in expanding production, modernizing plants, and increasing the size of plantations, all to achieve the premium quality of our blueberries.
We believe that quantity should not exclude quality. Dedicated work and high standards in production help us to maintain quality at an enviable level every day, which we are immensely proud of! We strive to be the best brand ambassadors of our country in the world and to keep our blueberries synonymous with top quality. Therefore, we take care that expansion of production is accompanied by equally good products that have so far received much praise for their quality.
As we put product quality first, we know that investing in every phase of the production process is necessary. Following the world trends in blueberry cultivation, we invest in machines that help us run the production process smoothly and without any problems. Irrigation, hail protection, storage, and packaging of blueberries are stages that require maximum commitment, to meet the highest standards for the product.
Continuous development of production requires plantations that are adapted to the cultivation of first-class blueberries, both in terms of soil quality and surface area. For the process of production to run smoothly, the area of land available to our production company has increased over the years – from three to twenty hectares. As we plan to work on increasing the production capacity, the expansion of plantations is inevitable, and we are looking forward to it with immense excitement!
Product
We take pride in our product. Dedicated work has brought us today to a position where we can boast of the fact that our blueberries are exported around the world – from the European Union, the Middle East to Asia, there are clients with whom we have successful business cooperation.
When it comes to packaging, in addition to standard packages of blueberries of 3 kg, we can offer customers packages of smaller weights. Blueberries are available in packages of 125g, 250g and 500g, but we can also offer other sizes on request.
The business strategy is focused on strategic progress, where we plan to significantly increase production in the next five years.
We have all the necessary certificates for blueberry production and export, as well as storage and production in the refrigerator.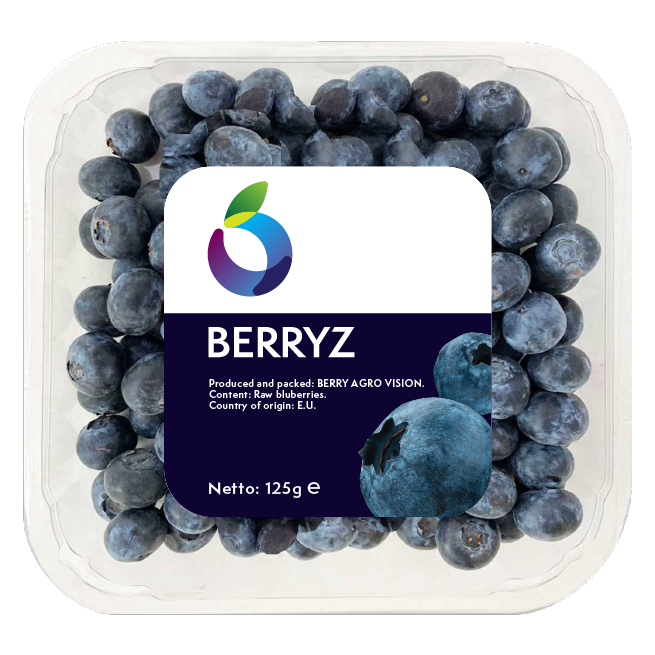 CONTACT US
If you have any question- feel free to reach us!

Radnicka 30, Bogatic, Serbia